About Us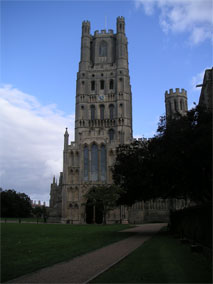 Chris Stewart Lettings Ltd is a progressive firm specializing in the rental of residential property. We can act for both private and corporate Landlords in a variety of ways, although the majority chooses full management of their properties. CSL Ltd has a large portfolio of mainly new, or nearly new properties in Ely City. The firm is always happy to take on additional clients and is happy to discuss its services at any time.
Chris Stewart has been an estate agent and more recently a letting agent for nearly 40 years, having begun his career on the Ely High Street in 1977. His experience and current knowledge of the market means he is well placed to give advice to both new and experienced landlords in relation to "buy to let" opportunities.
The firm has the absolute latest equipment in terms of computing and software and a regularly updated website with the latest properties for let and news. Chris is also happy for all clients, both landlords and tenants to have his mobile number to ensure his availability at anytime. Combine great technology with a personal touch and you can be assured of a smooth and trouble free rental experience!
We do not have client money protection as we do not hold client money. All deposits are transferred to the Deposit Protection Service and rent payments are passed to Landlords within 4 days unless otherwise instructed.